Just the facts.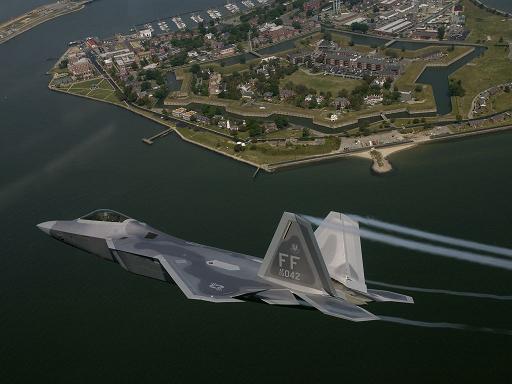 USAmerican engineering, the best in the world. Beauty in motion, notice the phrase capable of "catching up to................."
Having the radar signature of a robin…………………
They're the first military aircraft ever built that is equipped with a 'black-out button' What that means is this ... The best conditioned fighter pilots are capable of maintaining consciousness up to in the vicinity of 15+ G. The Raptor is capable of making 22+ G turns. If someday an adversary builds a missile that is capable of catching up to one of these airplanes and a Raptor pilot sees that a strike is imminent, he hits the 'b.o.b.' and the airplane makes a virtual U-turn, leaving the missile to pass right on by.

They know that in the process he'll temporarily lose consciousness,
so the Raptor then automatically comes back to straight and level
flight until he wakes.
Thanksgiving Divorce

A man in Jacksonville calls his son in San Diego the day before
Thanksgiving and says, 'I hate to ruin your day, but I have to tell
you that your mother and I are divorcing; forty-five years of misery
is enough.

'Pop, what are you talking about?' the son screams. We can't
stand the sight of each other any longer,' the father says. 'We're sick
of each other, and I'm sick of talking about this, so you call your sister in
Denver and tell her.'

Frantic, the son calls his sister, who explodes on the phone. 'Like
heck they're getting divorced,' she shouts, 'I'll take care of this,'

She calls Jacksonville immediately, and screams at her father, 'You
are NOT getting divorced. Don't do a single thing until I get there.
I'm calling my brother back, and we'll both be there tomorrow.
Until then, don't do a thing, DO YOU HEAR ME?' and hangs up.

The old man hangs up his phone and turns to his wife. 'Okay,' he
says, 'they're coming for Thanksgiving and paying their own way.'



A MODERN PARABLE
A Japanese company (Toyota) and an American company (Ford) decided to have a canoe race on the Missouri River . Both teams practiced long and hard to reach their peak performance before the race.
On the big day, the Japanese won by a mile.
The Americans, very discouraged and depressed, decided to investigate the
reason for the crushing defeat. A management team made up of senior management was formed to investigate and recommend appropriate action.
Their conclusion was the Japanese had 8 people rowing and 1 person steering, while the American team had 8 people steering and 1 person rowing.
Feeling a deeper study was in order, American management hired a consulting company and paid them a large amount of money for a second opinion.
They advised, of course, that too many people were steering the canoe while
not enough people were rowing.
Not sure of how to utilize that information, but wanting to prevent another loss to the Japanese, the rowing team's management structure was totally
reorganized to 4 steering supervisors, 3 area steering superintendents, and
1 assistant superintendent steering manager.
They also implemented a new performance system that would give the 1 person rowing the boat greater incentive to work harder. It was the 'Rowing Team Quality First Program,' with meetings, dinners, and free pens for the rower. There was discussion of getting new paddles, canoes, and other equipment, extra vacation days for practices and bonuses.
The next year the Japanese won by two miles.
Humiliated, the American management laid off the rower for poor
performance, halted development of a new canoe, sold the paddles, and
canceled all capital investments for new equipment. The money saved was
distributed to the Senior Executives as bonuses and the next year's racing
team was out-sourced to India.
Sadly, The End.
Here's something else to think about:
Ford has spent the last thirty years moving all its factories out of the
US, claiming they can't make money paying American wages.
TOYOTA has spent the last thirty years building more than a dozen plants
inside the US .
The last quarter's results:
TOYOTA makes 4 billion in profits while Ford racked up 9 billion in losses.
Ford folks are still scratching their heads.
IF THIS WEREN'T TRUE, IT MIGHT BE FUNNY.............................
WISDOM FROM THE MILITARY MANUAL
"If the enemy is in range, so are you." Infantry Journal
"It is generally inadvisable to eject directly over the area you just bombed." U.S.Air Force Manual
"Whoever said the pen is mightier than the sword obviously never encountered automatic weapons." General MacArthur
"You, you, and you ... Panic. The rest of you, come with me." U.S. Marine Corp Gunnery Sgt.
"Tracers work both ways." U.S. Army Ordnance
"Five second fuses only last three seconds." Infantry Journal
"Any ship can be a minesweeper. Once."
"Never tell the Platoon Sergeant you have nothing to do." Unknown Marine Recruit
"If you see a bomb technician running, keep up with him." USAF Ammo Troop
"Though I Fly Through the Valley of Death , I Shall Fear No Evil. For I am at 80,000 Feet and Climbing."
"You've never been lost until you've been lost at Mach 3." Paul F. Crickmore (test pilot)
"The only time you have too much fuel is when you're on fire."
"If the wings are traveling faster than the fuselage, it's probably a helicopter—and therefore, unsafe."
"When one engine fails on a twin engine airplane you always have enough power left to get you to the scene of the crash."
"Even with ammunition, the USAF is just another expensive flying club."
"What is the similarity between air traffic controllers and pilots? If a pilot screws up, the pilot dies; If ATC screws up, ...... The pilot dies."
"Never trade luck for skill."
The three most common expressions (or famous last words), in aviation are:
"Why is it doing that?"
"Where are we?"
And "Oh $h1t!"
"Airspeed, altitude and brains. Two are always needed to successfully complete the flight."
"Mankind has a perfect record in aviation; we never left one up there!"
"Flying the airplane is more important than radioing your plight to a person on the ground incapable of understanding or doing anything about it."
"The Piper Cub is the safest airplane in the world; it can just barely kill you." Attributed to Max Stanley (Northrop test pilot)
"There is no reason to fly through a thunderstorm in peacetime." Sign over squadron ops desk at DavisMonthan AFB, AZ, 1970
"If something hasn't broken on your helicopter, it's about to."
"You know that your landing gear is up and locked when it takes full power to taxi to the terminal."
As the test pilot climbs out of the experimental aircraft, having torn off the wings and tail in the crash landing, the crash truck arrives; the rescuer sees a bloodied pilot and asks,
"What happened?"
The pilot's reply: "I don't know, I just got here myself!"
Attributed to Ray Crandell (Lockheed test pilot)
I have fought a good fight, I have finished my course,
I have kept the faith. .
2 Timothy iv. 7
An inspirational poem........
'Twas the night before elections
And all through the town
Tempers were flaring
Emotions all up and down!

I, in my bathrobe
With a cat in my lap
Had cut off the TV
Tired of political crap.

When all of a sudden
There arose such a noise
I peered out of my window
Saw Obama and his boys

They had come for my wallet
They wanted my pay
To give to the others
Who had not worked a day!

He snatched up my money
And quick as a wink
Jumped back on his bandwagon
As I gagged from the stink

He then rallied his henchmen
Who were pulling his cart
I could tell they were out
To tear my country apart!

' On Fannie, on Freddie,
On Biden and Ayers!
On Acorn, On Pelosi'
He screamed at the pairs!

They took off for his cause
And as he flew out of sight
I heard him laugh at the nation
Who wouldn't stand up and fight!

So I leave you to think
On this one final note-
IF YOU DONT WANT SOCIALISM
GET OUT AND VOTE!!!!
Outstanding job by a great young pilot from Pennsylvania ! Can't add anything else to this... the picture is worth 10,000 words! If you don't think our military pilots earn their pay, you need to take a look at this picture. This photo was taken by a soldier in Afghanistan of a helo rescue mission.
The pilot is a PA National Guard guy who flies EMS choppers in civilian life. Now how many people on the planet you reckon could set the ass end of a
chopper down on the roof top of a shack, on a steep mountain cliff, and hold
it there while soldiers load wounded men in the rear. If this does not impress
you... nothing ever will.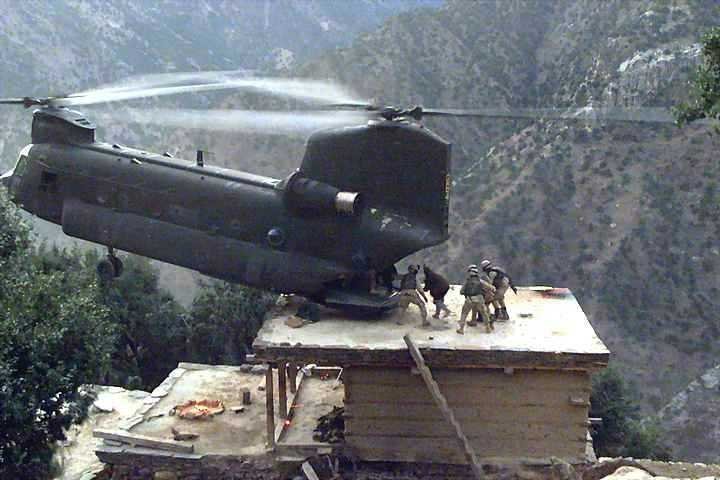 Now you ask: Who took the picture? My guess is one of the gunners on the helo holding cover, these guys are incredible pilots.