Jarasans Blog
Just the facts.
Tuesday, March 30, 2010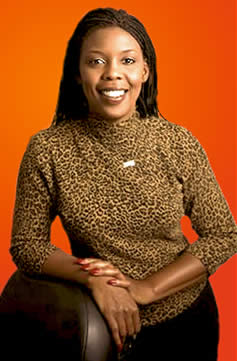 Star Parker. Center for Urban Renewal and Education. CURE.
The Government Plantation Forever?
As more Americans get herded onto the government plantation -- 30 million more with this new bill -- it's easy to keep them there
Star Parker, founder and president of CURE
Let's do a quick thought experiment.
The price of apples keeps going up. The government decides that every American must buy apples. But some can't afford them.
Government starts controlling how much apple farmers are paid, it mandates that every single American buys apples and subsidizes those under a certain income level so they can.
Will the price of apples go down, stay the same or go up? Or, in economists' language, if you limit the supply of a commodity and increase demand, will the price of that commodity go up or down?
Did you say "up"? You get an A. But if you did say "up," you surely are not a Democrat.
Democrats have just committed multitrillions of our money, and, as a bonus, sold a big chunk of American freedom down the road, betting that everything a college freshman learns in basic economics is not true. Or, that health care doesn't follow the rules of economics. Because our new health-care system is pretty much the apple scenario described above.
Or, maybe they don't care? Maybe it's not about economics, but about ideology and political power. And that the real issue is freedom. They think we've got too much and that politicians should decide what is fair and who should have what.
A revealing moment during the presidential campaign occurred when, during one debate, ABC's Charles Gibson pushed then-Sen. Barack Obama about his stated intent to increase capital gains taxes. Gibson brandished data showing that when you cut this tax, government tax revenues increase, and when you raise it, revenue drops (punishing investment surely produces less).
"So, why raise it?" Gibson asked. Obama responded that maybe it won't happen that way this time. And besides, he said, his motive was "fairness."
After voters in Massachusetts elected a Republican to replace the late Sen Ted Kennedy, killing the Democrats' filibuster-proof Senate majority, many pundits wrote that President Obama had to move to the political center.
I wrote then that this wouldn't happen because, unlike President Bill Clinton, who did moderate, Obama is a left-wing ideologue. He didn't run for president to be somebody. He did it to do something. He did it to change America.
As polls showed waning public support for what Democrats were pushing on health care, many assumed they would back off. It was still conceivable that they could stand rules on their head and ram the thing through using the so-called reconciliation procedure. But why would they do it when polls suggested they would be punished in November elections?
But Obama understood that when you are selling dreams, numbers don't matter.
So, as in the housing and financial debacle we just went through, you commit taxpayer money to subsidize a product to make it look cheaper than it is, you get people to buy it, and when it all comes crashing down, it doesn't matter. By then you're long gone.
And, another bonus, as more Americans get herded onto the government plantation -- 30 million more with this new bill -- it's easy to keep them there. So the most likely political outcome going forward is higher taxes and income redistribution to pay for it all, entrenching socialism more.
As I have written before, if you want to know where it all leads, look at our inner cities that were long ago taken over by government compassion. This is our future, my fellow Americans.
Oh, back to the apples. Their prices were rocketing up to begin with because government was already controlling and regulating them.
Republicans are mad. But will they be able to entice Americans off the ever-growing government plantation? Will they propose and succeed in selling the bold ideas necessary to turn the basket case we're becoming around?
We'll see.
Tuesday, March 30, 2010
Here is the link:
Ten questions A-F.
http://www.cbsnews.com/8301-503544_162-6116297-503544.html?tag
You get results after submitting.
Monday, March 29, 2010
Please someone, anyone, can you tell me how the Federal, State, and local govts. make the money they spend now and plan to spend in the future......?
What do they produce to make a profit?
What service do they provide that makes a profit?
What in the world do they do to deserve life long pensions and free healthcare after working only 2-20 years?
Please I gots to know!!!!!!!!!!
From an e-mail:
I told you this was UNCONSTITUTIONAL.....now someone need to send it to the Supreme Court.
wrong wrong wrong
FINALLY SOME ONE ASKED HIM THE QUESTION!
ON "ABC-TV" Monday October 12, 2009 DURING THE "NETWORK SPECIAL ON HEALTH CARE".... OBAMA WAS ASKED:
"MR PRESIDENT WILL YOU AND YOUR FAMILY GIVE UP YOUR CURRENT HEALTH CARE PROGRAM
AND JOIN THE NEW 'UNIVERSAL HEALTH CARE PROGRAM' THAT THE REST OF US WILL BE ON ????"
THERE WAS A STONEY SILENCE AS OBAMA IGNORED THE QUESTION AND CHOSE NOT TO ANSWER IT !!!
IN ADDITION, A NUMBER OF SENATORS WERE ASKED THE SAME QUESTION AND THEIR RESPONSE WAS."WE WILL THINK ABOUT IT."
AND THEY DID. IT WAS ANNOUNCED TODAY ON THE NEWS THAT THE "KENNEDY HEALTH CARE BILL" WAS WRITTEN INTO THE NEW HEALTH CARE REFORM INITIATIVE ENSURING THAT THE CONGRESS WILL BE 100% EXEMPT ! AS WELL AS THEIR STAFFERS.
SO, THIS GREAT NEW HEALTH CARE PLAN THAT IS GOOD FOR YOU AND ME... IS NOT GOOD ENOUGH FOR OBAMA, HIS FAMILY OR CONGRESS...??
WE (THE AMERICAN PUBLIC) NEED TO STOP THIS PROPOSED DEBACLE ASAP !!!! THIS IS TOTALLY WRONG !!!!!
PERSONALLY, I CAN ONLY ACCEPT A UNIVERSAL HEALTH CARE OVERHAUL THAT EXTENDS TO EVERYONE... NOT JUST US LOWLY CITIZENS... WHILE THE WASHINGTON "ELITE" KEEP RIGHT ON WITH THEIR GOLD-PLATED HEALTH CARE COVERAGES.
WHAT???
The Republic has a CONSTITUTION???
Does this mean nothing today? This document is the foundation of our country and these people step all over it after taking an oath to uphold and defend it. Come on people, wake up and refuse to allow this to continue.
Put down the bong and read this carefully:
Proposed Amendment 28: Great Idea.
Congress shall make no law that applies to the citizens of the United States that does not apply equally to the Senators or Representatives, and Congress shall make no law that applies to the Senators or Representatives that does not apply equally to the citizens of the United States.
Friday, March 26, 2010
Old Chinese Proverb
Confucius say,
"If you are in a book store and cannot find
The book for which you search, you are obviously
in the.....
Wednesday, March 24, 2010
This congreffman really spells it out for those with ADD, or have trouble putting the bong down, listen carefully to what he says:
Tuesday, March 23, 2010
"Blog" defined by LP:
"A Blog is a Web page that serves as a publicly-accessible personal journal for an individual. Typically updated daily, Blogs often reflect the personality of the author (the "Blogger").
Why do people JUST reprint "mainstream news items"or "sports scores"? You know like Healthcare gets signed by Obama? Michael Jackson is dead? Tiger Woods is playing the Masters? Man eats golf club (that is actually interesting, I made it up)! Are you wanna-be news reporters? What is personal or opinionated on any of this? You know who you are....do you actually believe or think that this is "blogging" or you are doing some kind of service? You are just reprinting the news! For the love of God, get some opinion going on or tell us something we might not see 50 GD times on the news before you post it! Show us some writing skills I know you got em,. If no writing skills go work for UPI or AP and be proof readers!
I believe the "news re-reporters" are trying to crank up the number of posts just for the highest entry number.
Please tell me why. I gots to know.
Friday, March 19, 2010
Walmart Versus The Morons:
1. Americans spend $36,000,000 at
Wal-Mart Every hour of
every day.
2. This works out to $20,928 profit
every minute;
3. Wal-Mart will sell more from
January 1 to St. Patrick's
Day (March 17th) than Target sells all year.
4. Wal-Mart is bigger than Home Depot + Kroger + Target + Sears +
Costco + K-Mart combined.
5. Wal-Mart employs 1.6 million people and is the largest private
Employer, and most speak English.
6. Wal-Mart is the largest company in the history of the World.
7. Wal-Mart now sells more food than Kroger & Safeway combined,
and keep in mind they did this in only 15 years.
8. During this same period, 31
supermarket chains sought
bankruptcy.
9. Wal-Mart now sells more food than any other store in the
world.
10. Wal-Mart has approx 3,900 stores in the USAof which
1,906 are Super Centers; this is 1,000 more than it had 5 Years
ago.
11. This year 7.2 billion different
purchasing experiences
will occur At a Wal-Mart store. (Earth's population is
approximately 6.5
Billion.)
12. 90% of all Americans live within
15 miles of a Wal-Mart.
You may think that I am complaining, but I am really laying the
ground work for suggesting that MAYBE we should hire the guys who
run Wal-Mart to Fix the economy.
This should be read and understood by
all Americans
Democrats, Republicans, EVERYONE!!
To President Obama and all 535 voting
members of the
Legislature,
It is now official you are ALL corrupt
morons:
The U.S. Post Service was established
in 1775.You have had
234 years to get it right and it is BROKE.
Social Security was established in
1935. You have had 74
years to get it right and it is BROKE.
Fannie Mae was established in 1938.
You have had 71 years to
get it right and it is BROKE.
War on Poverty started in 1964. You
have had 45 years to get
it right; 1$ trillion of our money is confiscated each year
and transferred to
"the poor" and they only want more.
Medicare and Medicaid were established
in 1965. You have had
44 years to get it right and they are BROKE.
Freddie Mac was established in 1970.
You have had 39 years
to get it right and it is BROKE.
The Department of Energy was created
in 1977 to lessen our
dependence on foreign oil. It has ballooned to 16,000
employees with a budget
of $24 billion a year and we import more oil than ever
before.
You had 32 years to get it right and it is an abysmal
FAILURE.
You have FAILED in every
"government service" you
have shoved down our throats while overspending our tax
dollars.
AND YOU WANT AMERICANS TO BELIEVE YOU
CAN BE TRUSTED WITH A
GOVERNMENT-RUN HEALTH CARE SYSTEM??
Thursday, March 18, 2010
Some friends and crowd gathering circa 7PM. got what I could before it got wall to wall....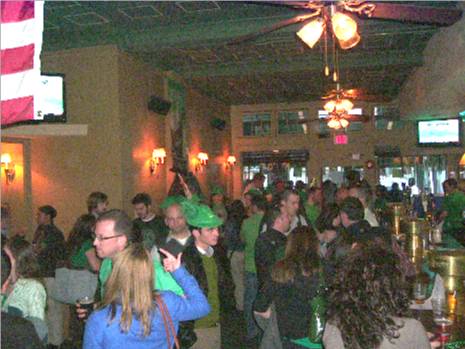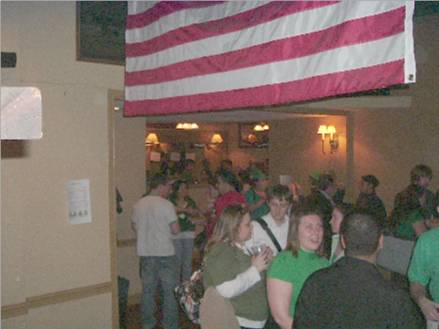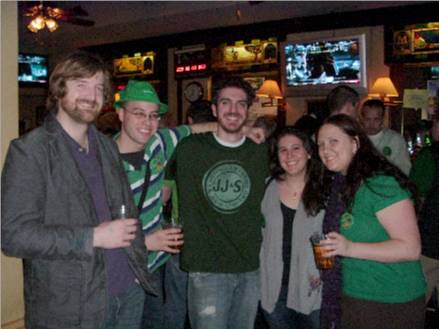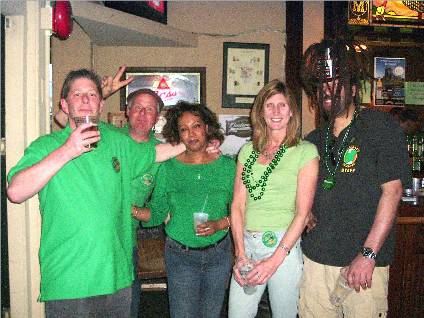 These were taken around 7PM (If you look front on the top pic it is still daylight, and the party is starting to rock!) of the pub and my friends, they are great, the guy with the JJS shirt is the other half of the duo. The place got jammed full by 8:30PM shoulder to shoulder until 11:30PM! Thank God, it was a school/work night! Some of the Irish music we played were Lord of the dance, Wild Rover, Shipping up to Boston, the Unicorn song, The old Dunn cow, Finnegans Wake, Beer, beer , beer... Drunken sailor, 7 drunken nights, Mary Mac, Whiskey in the Jar, Fields of Atherny, Bog Down in the valley'O, Johnny I hardly knew ya.
Of course we had lots of requests from Free Bird, to Galway Girl, to Lollipop by Lil' Wayne! The biggest responses we got were for Mary Mac, American Pie, Shipping up to Boston, Don't look back in Anger, and The old Dunn cow, it was fun!!!!!
Wednesday, March 17, 2010
Happy St. Patricks day! Today I will be playing for near 8 hours at an Irish pub in Washington D.C. called Murphy's on 24th St. NW. We are going to play both contemporary music and mix in the Irish music for the rest of the day starting at five 'till closing..................it should be fun I am bringing the camera.
Monday, March 15, 2010
From Yahoo, who didn't see this coming? Earlier than expected...
Social Security to start cashing Uncle Sam's IOUs
By STEPHEN OHLEMACHER, Associated Press Writer Stephen Ohlemacher, Associated Press Writer – Mon Mar 15, 7:57 am ETPARKERSBURG, W.Va. – The retirement nest egg of an entire generation is stashed away in this small town along the Ohio River: $2.5 trillion in IOUs from the federal government, payable to the Social Security Administration.
It's time to start cashing them in.
For more than two decades, Social Security collected more money in payroll taxes than it paid out in benefits — billions more each year.
Not anymore. This year, for the first time since the 1980s, when Congress last overhauled Social Security, the retirement program is projected to pay out more in benefits than it collects in taxes — nearly $29 billion more.
Sounds like a good time to start tapping the nest egg. Too bad the federal government already spent that money over the years on other programs, preferring to borrow from Social Security rather than foreign creditors. In return, the Treasury Department issued a stack of IOUs — in the form of Treasury bonds — which are kept in a nondescript office building just down the street from Parkersburg's municipal offices.
Now the government will have to borrow even more money, much of it abroad, to start paying back the IOUs, and the timing couldn't be worse. The government is projected to post a record $1.5 trillion budget deficit this year, followed by trillion dollar deficits for years to come.
Social Security's shortfall will not affect current benefits. As long as the IOUs last, benefits will keep flowing. But experts say it is a warning sign that the program's finances are deteriorating. Social Security is projected to drain its trust funds by 2037 unless Congress acts, and there's concern that the looming crisis will lead to reduced benefits.
"This is not just a wake-up call, this is it. We're here," said Mary Johnson, a policy analyst with The Senior Citizens League, an advocacy group. "We are not going to be able to put it off any more."
For more than two decades, regardless of which political party was in power, Congress has been accused of raiding the Social Security trust funds to pay for other programs, masking the size of the budget deficit.
Remember Al Gore's "lockbox," the one he was going to use to protect Social Security? The former vice president talked about it so much during the 2000 presidential campaign that he was parodied on "Saturday Night Live."
Gore lost the election and never got his lockbox. But to illustrate the government's commitment to repaying Social Security, the Treasury Department has been issuing special bonds that earn interest for the retirement program. The bonds are unique because they are actually printed on paper, while other government bonds exist only in electronic form.
They are stored in a three-ring binder, locked in the bottom drawer of a white metal filing cabinet in the Parkersburg offices of Bureau of Public Debt. The agency, which is part of the Treasury Department, opened offices in Parkersburg in the 1950s as part of a plan to locate important government functions away from Washington, D.C., in case of an attack during the Cold War.
One bond is worth a little more than $15.1 billion and another is valued at just under $10.7 billion. In all, the agency has about $2.5 trillion in bonds, all backed by the full faith and credit of the U.S. government. But don't bother trying to steal them; they're nonnegotiable, which means they are worthless on the open market.
More than 52 million people receive old age or disability benefits from Social Security. The average benefit for retirees is a little under $1,200 a month. Disabled workers get an average of $1,100 a month.
Social Security is financed by payroll taxes — employers and employees must each pay a 6.2 percent tax on workers' earnings up to $106,800. Retirees can start getting early, reduced benefits at age 62. They get full benefits if they wait until they turn 66. Those born after 1960 will have to wait until they turn 67.
Social Security's financial problems have been looming for years as the nation's 78 million baby boomers approached retirement age. The oldest are already there. As that huge group of people starts collecting benefits — and stops paying payroll taxes — Social Security's trust funds will shrink, running out of money by 2037, according to the latest projection from the trustees who oversee the program.
The recession is making things worse, at least in the short term. Tax receipts are down from the loss of more than 8 million jobs, and applications for early retirement benefits have spiked from older workers who were laid off and forced to retire.
Stephen C. Goss, chief actuary for the Social Security Administration, says the crisis has been years in the making. "If this helps get people to look more seriously at that in the nearer term, that's probably a good thing. But it's only really a punctuation mark on the fact that we have longer-term financial issues that need to be addressed."
In the short term, the nonpartisan Congressional Budget Office projects that Social Security will continue to pay out more in benefits than it collects in taxes for the next three years. It is projected to post small surpluses of $6 billion each in 2014 and 2015, before returning to indefinite deficits in 2016.
For the budget year that ends in September, Social Security is projected to collect $677 million in taxes and spend $706 million on benefits and expenses.
Social Security will also collect about $120 billion in interest on the trust funds, according to the CBO projections, meaning its overall balance sheet will continue to grow. The interest, however, is paid by the government, adding even more to the budget deficit.
While Congress must shore up the program, action is unlikely this year, said Rep. Earl Pomeroy, D-N.D., who just took over last week as chairman of the House subcommittee that oversees Social Security.
"The issues required to address the long-term solvency needs of Social Security can be done in a careful, thoughtful and orderly way and they don't need to be done in the next few months," Pomeroy said.
The national debt — the amount of money the government owes its creditors — is about $12.5 trillion, or nearly $42,000 for every man, woman and child in the country. About $8 trillion has been borrowed in public debt markets, much of it from foreign creditors. The rest came from various government trust funds, including retirement funds for civil servants and the military. About $2.5 trillion is owed to Social Security.
Good luck to the politician who reneges on that debt, said Barbara Kennelly, a former Democratic congresswoman from Connecticut who is now president of the National Committee to Preserve Social Security and Medicare.
"Those bonds are protected by the full faith and credit of the United States of America," Kennelly said. "They're as solid as what we owe China and Japan."
P.S. The lock box was a "Campaign Promise".
Archives
May 2022 April 2022 March 2022 February 2022 January 2022 December 2021 November 2021 October 2021 September 2021 August 2021 July 2021 June 2021 May 2021 April 2021 March 2021 February 2021 January 2021 December 2020 November 2020 October 2020 September 2020 August 2020 July 2020 June 2020 May 2020 April 2020 March 2020 February 2020 January 2020 December 2019 November 2019 October 2019 September 2019 August 2019 July 2019 June 2019 May 2019 April 2019 March 2019 February 2019 January 2019 December 2018 November 2018 October 2018 September 2018 August 2018 July 2018 June 2018 May 2018 April 2018 March 2018 February 2018 January 2018 December 2017 November 2017 October 2017 September 2017 August 2017 July 2017 June 2017 May 2017 April 2017 March 2017 February 2017 January 2017 December 2016 November 2016 October 2016 September 2016 August 2016 July 2016 June 2016 May 2016 April 2016 March 2016 February 2016 January 2016 December 2015 November 2015 October 2015 September 2015 August 2015 July 2015 June 2015 May 2015 April 2015 March 2015 February 2015 January 2015 December 2014 November 2014 October 2014 September 2014 August 2014 July 2014 June 2014 May 2014 April 2014 March 2014 February 2014 January 2014 December 2013 November 2013 October 2013 September 2013 August 2013 July 2013 June 2013 May 2013 April 2013 March 2013 February 2013 January 2013 December 2012 November 2012 October 2012 September 2012 August 2012 July 2012 June 2012 May 2012 April 2012 March 2012 February 2012 January 2012 December 2011 November 2011 October 2011 September 2011 August 2011 July 2011 June 2011 May 2011 April 2011 March 2011 February 2011 January 2011 November 2010 October 2010 September 2010 August 2010 July 2010 June 2010 May 2010 April 2010 March 2010 February 2010 January 2010 December 2009 November 2009 October 2009 September 2009 August 2009 July 2009 June 2009 May 2009 April 2009 March 2009 February 2009 January 2009 December 2008 November 2008 October 2008 September 2008 August 2008 July 2008 June 2008 April 2008 March 2008 February 2008 January 2008 December 2007 November 2007 September 2007 August 2007 July 2007 June 2007 May 2007 April 2007