Jarasans Blog
Just the facts.
Tuesday, June 26, 2012
For Dem/Lib friends, why they vote leftist/dem.
12 REASONS TO VOTE DEMOCRAT
When your family or friends cannot explain why they voted Democrat, give them this list. Then they can then pick a reason from this "TOP 12"..
1. I voted Democrat because I believe oil companies' profits of 4% on a gallon of gas are obscene, but the government taxing the same gallon of gas at 15% isn't.
2. I voted Democrat because I believe the government will do a better job of spending the money I earn than I would.
3. I voted Democrat because Freedom of Speech is fine as long as nobody is offended by it.
4. I voted Democrat because I'm way too irresponsible to own a gun, and I know that my local police are all I need to protect me from murderers and thieves.
5. I voted Democrat because I believe that people who can't tell us if it will rain on Friday can tell us that the polar ice caps will melt away in ten years if I don't start driving a Prius.
6. I voted Democrat because I'm not concerned about millions of babies being aborted so long as we keep all death row inmates alive.
7. I voted Democrat because I think illegal aliens have a right to free health care, education, and Social Security benefits, and we should take away the social security from those who paid into it.
8. I voted Democrat because I believe that business should not be allowed to make profits for themselves. They need to break even and give the rest away to the government for redistribution as the Democrats see fit.
9. I voted Democrat because I believe liberal judges need to rewrite the
Constitution every few days to suit some fringe kooks who would never get their agendas past the voters.
10.. I voted Democrat because I think that it's better to pay billions to people who hate us for their oil, but not drill our own because it might upset some endangered beetle, gopher or fish.
11. I voted Democrat because while we live in the greatest, most wonderful country in the world, I was promised "HOPE AND CHANGE".
12. I voted Democrat because my head is so firmly planted up my a$$, it's unlikely that I'll ever have another point of view.
Friday, June 22, 2012
Wednesday, June 20, 2012
How's this for apocalyptic literature. This was written by a pastor's
wife in biblical prose as a commentary of current events.

And it came to pass in the Age of Insanity that the people of the land
called America , having lost their morals, their initiative, and their
will to defend their liberties, chose as their Supreme Leader that
person known as "The One."

He emerged from the vapors with a message that had no meaning; but He
hypnotized the people telling them, "I am sent to save you." My lack
of experience, my questionable ethics, my monstrous ego, and my
association with evil doers are of no consequence. I shall save you
with hope and Change. Go, therefore, and proclaim throughout the
land that he who proceeded me is evil, that he has defiled the nation,
and that all he has built must be destroyed. And the people rejoiced,
for even though they knew not what "The One" would do, he had promised
that it was good; and they believed. And "The One" said "We live in
the greatest country in the world. Help me change everything about it!"
And the people said, "Hallelujah! Change is good!"
Then He said, "We are going to tax the rich fat-cats." And the
people said "Sock it to them!" "And redistribute their wealth." And
the people said, "Show us the money!" And the he said, "
redistribution of wealth is good for everybody.."

And Joe the plumber asked, " Are you kidding me? You're going to
steal my money and give it to the deadbeats??" And "The One"
ridiculed and taunted him, and Joe's personal records were hacked and publicized.
One lone reporter asked, "Isn't that Marxist policy?" And she was
banished from the kingdom.

Then a citizen asked, "With no foreign relations experience and
having zero military experience or knowledge, how will you deal with
radical terrorists?" And "The One" said, "Simple. I shall sit with
them and talk with them and show them how nice we really are; and they
will forget that they ever wanted to kill us all!" And the people
said, "Hallelujah!! We are safe at last, and we can beat our weapons
into free cars for the people!"

Then "The One" said "I shall give 95% of you lower taxes." And one,
lone voice said, "But 40% of us don't pay ANY taxes." So "The One"
said, "Then I shall give you some of the taxes the fat-cats pay!"
And the people said, "Hallelujah! Show us the money!"
Then "The One" said, "I shall tax your Capital Gains when you sell
your homes!" And the people yawned and the slumping housing market
collapsed. And He said. "I shall mandate employer-funded health care
for every worker and raise the minimum wage. And I shall give every
person unlimited healthcare and medicine and transportation to the
clinics." And the people said, "Give me some of that!"
Then he said, "I shall penalize employers who ship jobs overseas."
And the people said, "Where's my rebate check?"

Then "The One" said, "I shall bankrupt the coal industry and
electricity rates will skyrocket!" And the people said, "Coal is
dirty, coal is evil, no more coal! But we don't care for that part
about higher electric rates." So "The One" said, Not to worry. If
your rebate isn't enough to cover your expenses, we shall bail you out.
Just sign up with the ACORN and you troubles are over!"
Then He said, "Illegal immigrants feel scorned and slighted. Let's
grant them amnesty, Social Security, free education, free lunches,
free medical care, bi-lingual signs and guaranteed housing..." And
the people said, "Hallelujah!" and they made him king!

And so it came to pass that employers, facing spiraling costs and
ever-higher taxes, raised their prices and laid off workers. Others
simply gave up and went out of business and the economy sank like unto
a rock dropped from a cliff.

The bank banking industry was destroyed. Manufacturing slowed to a
crawl. And more of the people were without a means of support.

Then "The One" said, "I am the "the One"- The Messiah - and I'm here
to save you! We shall just print more money so everyone will have
enough!" But our foreign trading partners said unto Him. "Wait a
minute. Your dollar is not worth a pile of camel dung! You will have
to pay more... And "The One" said, "Wait a minute. That is
unfair!!" And the world said, "Neither are these other idiotic
programs you have embraced. Lo, you have become a Socialist state and
a second-rate power. Now you shall play by our rules!"

And the people cried out, "Alas, alas!! What have we done?" But yea
verily, it was too late. The people set upon The One and spat upon
him and stoned him, and his name was dung. And the once mighty nation
was no more; and the once proud people were without sustenance or
shelter or hope. And the Change "The One" had given them was as like
unto a poison that had destroyed them and like a whirlwind that
consumed all that they had built.

And the people beat their chests in despair and cried out in anguish,
"give us back our nation and our pride and our hope!!" But it was too
late, and their homeland was no more.

You may think this a fairy tale, but it's not. It's happening RIGHT NOW!~
Saturday, June 16, 2012
Craig's List Ad
Whether you are interested in used farm equipment, or not, you might enjoy this ad taken from Craig's List.
Fifty Year Old Manure Spreader = $1 (Washington, D. C.)
Fifty-year old manure spreader. Not sure of brand. Said to have been produced in Kenya . Used for a few years in Indonesia before being smuggled into the U.S. via Hawaii . Of questionable pedigree. Does not appear to have ever been worked hard.. Apparently it was pampered by various owners over the years. It doesn't work very often, but when it does it can really sling the manure for amazing distances. I am hoping to retire the manure spreader next November.
I really don't want it hanging around getting in the way. I would prefer a foreign buyer to relocate the manure spreader out of the country. I would be willing to trade it for a nicely framed copy of the United States Constitution.
Location: Currently being stored in a big, white house in Washington , D.C.
Tuesday, June 12, 2012
Bob Beckel is a hack. He just said on national tv, "Ask yourself this question are you better off than you were 4 years ago? And the answer is yes." The hack didn't bat an eye, fat faced liar.
This is laughable big time, and is a mental sickness, "the denial of truth and facts".
We just get a factual report that we are ALL worth 40% less than we were in 2007, and it isn't getting better. It is a lie that anything is improving.
Friday, June 8, 2012
From an e-mail:
An Obituary printed in the London Times.....Absolutely Dead Brilliant !!
Today we mourn the passing of a beloved old friend, Common Sense ,who has been with us for many years. No one knows for sure how old he was, since his birth records were long ago lost in bureaucratic red tape. He will be remembered as having cultivated such valuable lessons as:
- Knowing when to come in out of the rain;
- Why the early bird gets the worm;
- Life isn't always fair;
- And maybe it was my fault.
Common Sense lived by simple, sound financial policies (don't spend more than you can earn) and reliable strategies (adults, not children, are in charge).
His health began to deteriorate rapidly when well-intentioned but overbearing regulations were set in place. Reports of a 6-year-old boy charged with sexual harassment for kissing a classmate; teens suspended from school for using mouthwash after lunch; and a teacher fired for reprimanding an unruly student, only worsened
his condition.
Common Sense lost ground when parents attacked teachers for doing the job that they themselves had failed to do in disciplining their unruly children.
He declined even further when schools were required to get parental consent to administer sun lotion or an aspirin to a student; but could not inform parents when a
student became pregnant and wanted to have an abortion.
Common Sense lost the will to
live as the churches became businesses; and criminals received better treatment than their victims.
Common Sense took a beating
when you couldn't defend yourself from a burglar in your own home and the burglar could sue you for assault.
Common Sense finally gave up the will to live, after a woman failed to realize that a steaming cup of coffee was hot. She spilled a little in her lap, and was promptly awarded a huge settlement.
Common Sense was preceded in death,
-by his parents, Truth and Trust,
-by his wife, Discretion,
-by his daughter, Responsibility,
-and by his son, Reason.
He is survived by his 5 stepbrothers;
- I Know My Rights
- I Want It Now
- Someone Else Is To Blame
- I'm A Victim
- Pay me for Doing Nothing
Not many attended his funeral because so few realized he was gone.
Saturday, June 2, 2012
Friday, June 1, 2012
Not the LGBT family but the LBBS family. I am convinced by the writing styles and vacuous thought processes.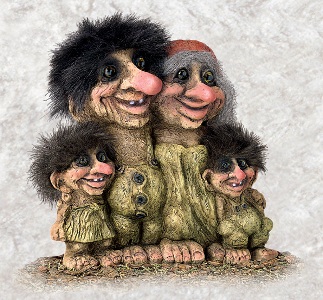 Friday, June 1, 2012
Now it is actual about 19%-20%. No matter how you spin this we are in trouble until the fascists get voted out in Nov.. Next week the SOTUS decides on HR 3962, if rescinded the market might get a boost as well as the employment number.
From Reuters:
By Lucia Mutikani
WASHINGTON (Reuters) - Job growth in May was the weakest in a year and employers added far fewer jobs in the prior two months than previously reported, suggesting the economic recovery was faltering.
Employers created a paltry 69,000 jobs last month, the Labor Department said on Friday, the fewest since May last year. Economists polled by Reuters had expected nonfarm payrolls to increase 150,000.
In addition, employers added 49,000 fewer jobs than previously estimated in March and April. The unemployment rate rose to 8.2 percent from 8.1 percent as people flocked into the labor market.
While unseasonably warm weather that brought forward hiring into the winter months has been blamed for the step back in March and April, the latest report hinted at more fundamental weakness in the economy.
It could further shake confidence, coming on the back of a raft of soft regional factory surveys and a worsening of the debt crisis in Europe. Data on Friday also showed China's vast factory sector lost momentum in May.
Economists have blamed Europe's prolonged financial crisis and slowing Chinese growth for sluggish factory activity in May, which has evoked memories of the slackening of job growth in the summer of 2011 when the recovery nearly stalled.
However, a survey of households showed stronger employment gains. While the unemployment rate rose as new job seekers flooded into the labor force.
The weak payrolls report could cause the Federal Reserve to move closer to launching a third round of bond purchases to shore up the economy. It could also exert more pressure on President Barack Obama, who faces a tough re-election campaign in November.
The level of employment is still 5 million jobs below where it was in December 2007, when the economy fell into recession.
Analysts say the economy needs to create roughly 125,000 jobs a month just to keep the unemployment rate steady.
The labor force participation rate - the share of working-age Americans who either have a job or are looking for one - rose to 63.8 percent after dropping to a 30-year low in April.
Job gains were weak across the board last month, with the private sector adding only 82,000 positions. Government payrolls dropped by 13,000, dragged down by ongoing belt-tightening by local governments.
Construction employment fell 28,000 in May, the fourth straight decline, driven by an increase in residential construction.
Manufacturing, the recovery's star performer, added 12,000 jobs.
Given the high unemployment rate, average hourly earnings rose only two cents and the average workweek fell to 34.4 hours.
Archives
May 2022 April 2022 March 2022 February 2022 January 2022 December 2021 November 2021 October 2021 September 2021 August 2021 July 2021 June 2021 May 2021 April 2021 March 2021 February 2021 January 2021 December 2020 November 2020 October 2020 September 2020 August 2020 July 2020 June 2020 May 2020 April 2020 March 2020 February 2020 January 2020 December 2019 November 2019 October 2019 September 2019 August 2019 July 2019 June 2019 May 2019 April 2019 March 2019 February 2019 January 2019 December 2018 November 2018 October 2018 September 2018 August 2018 July 2018 June 2018 May 2018 April 2018 March 2018 February 2018 January 2018 December 2017 November 2017 October 2017 September 2017 August 2017 July 2017 June 2017 May 2017 April 2017 March 2017 February 2017 January 2017 December 2016 November 2016 October 2016 September 2016 August 2016 July 2016 June 2016 May 2016 April 2016 March 2016 February 2016 January 2016 December 2015 November 2015 October 2015 September 2015 August 2015 July 2015 June 2015 May 2015 April 2015 March 2015 February 2015 January 2015 December 2014 November 2014 October 2014 September 2014 August 2014 July 2014 June 2014 May 2014 April 2014 March 2014 February 2014 January 2014 December 2013 November 2013 October 2013 September 2013 August 2013 July 2013 June 2013 May 2013 April 2013 March 2013 February 2013 January 2013 December 2012 November 2012 October 2012 September 2012 August 2012 July 2012 June 2012 May 2012 April 2012 March 2012 February 2012 January 2012 December 2011 November 2011 October 2011 September 2011 August 2011 July 2011 June 2011 May 2011 April 2011 March 2011 February 2011 January 2011 November 2010 October 2010 September 2010 August 2010 July 2010 June 2010 May 2010 April 2010 March 2010 February 2010 January 2010 December 2009 November 2009 October 2009 September 2009 August 2009 July 2009 June 2009 May 2009 April 2009 March 2009 February 2009 January 2009 December 2008 November 2008 October 2008 September 2008 August 2008 July 2008 June 2008 April 2008 March 2008 February 2008 January 2008 December 2007 November 2007 September 2007 August 2007 July 2007 June 2007 May 2007 April 2007