Just the facts.
Definitely worth the read, it is a summation of the molecular level biological processes of the cancer cell and the multi-channel strategies they are using to deny cancer cells from replicating and best of all not recurring.
The approach is similar to the current treatments for AIDS.
https://www.jpost.com/HEALTH-SCIENCE/A-cure-for-cancer-Israeli-scientists-say-they-think-they-found-one-578939
https://www.wnd.com/2019/01/democrats-and-the-dark-art-of-projection/
This is exactly what the garbage leftist trolls do on this site.
https://www.everydayhealth.com/emotional-health/psychological-projection-dealing-with-undesirable-emotions/
Downtown on Willie Brown cackled her.!HAHAHAHA!
What a worn out set of bs promises, ugh.
A young woman brought her fiancé home to meet her parents. After dinner,
her mother told the girl's father to find out about the young man.

The father invited the fiancé to his study for a talk.

"So, what are your plans?" the father asked the young man.

"I am a biblical scholar," he replied

"A biblical scholar, hmmm?" the father said. "Admirable, but what will you
do to provide a nice house for my daughter to live in?"

"I will study," the young man replied, "and God will provide for us."

"And how will you buy her a beautiful engagement ring, such as she
deserves?" asked the father.

"I will concentrate on my studies," the young man replied, "God will
provide for us."

"And children?" asked the father. "How will you support children?"

"Don't worry, sir, God will provide," replied the fiance.

The conversation proceeded like this...and each time the father questioned,
the young idealist insisted that God would provide.

Later, the mother asked, "How did your talk go, honey?"

The father answered, "He's a Democrat. He has no job, he has no plans,
and he thinks I'm God."
Angry women, very angry agitated women, why? What is missing in their lives? What happened or didn't happen for them for all that freak out?
The comments are all over the truth, no psychologists necessary.
https://www.breitbart.com/clips/2019/01/21/womens-march-demonstrator-freaks-out-on-pro-lifer-no-uterus-no-opinion/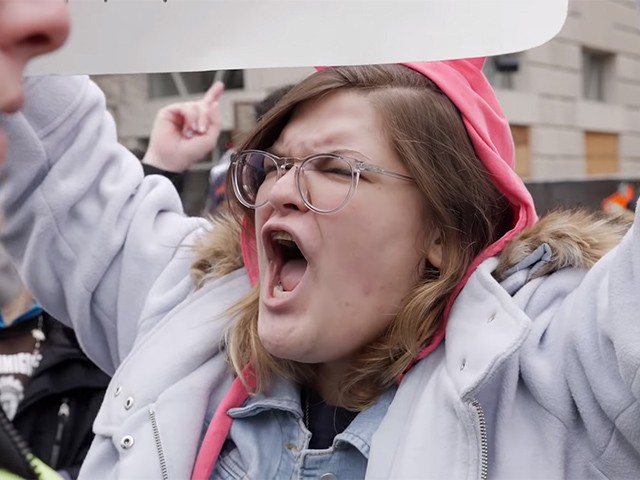 Hmmmm what could it be??
Article succinctly and historically correct, written in 2006 reminds us that the Republicans are not the racists, true to this day. The demoncRATS have always been the bigots and racists of America.
http://humanevents.com/2006/08/16/why-martin-luther-king-was-republican/
https://www.breitbart.com/politics/2019/01/18/mueller-disputes-buzzfeed-news-report-claiming-trump-directed-michael-cohen-testimony/
Read it, and learn something.... Short Bussers.
buzzcrap.com rawcrap.com wapo.crap mothajones.crap huffpo.crap etc....
The left is for losers.
https://www.foxnews.com/entertainment/cnn-legal-analyst-areva-martin-accuses-david-webb-of-white-privilege-before-learning-hes-black
And of course she blames someone else, typical fascist leftist. Areva get it together.
What was he thinking? Not much, like most of the demoncRATTED angry left. He should just crawl away and hide.
https://www.foxnews.com/politics/cnns-jim-acosta-mocked-for-accidently-proving-that-border-walls-work
https://twitter.com/twitter/statuses/1083411819354558467