Just the facts.
The EPA has been smacked down, finally, they can be challenged in court. End fascism ASAP, this is a start. YAY!
here is the link:
http://www.scotusblog.com/2012/03/opinion-recap-taking-epa-to-court/
This squirrel just comes up to the door and looks Oliver Twisty and stuff. I then go and get some peanuts and it takes the peanuts and eats them very carefully removing the shell before eating the delicious peanuts inside. Then once it is finished, I sweep up the shells. This happens just about every day, as long as it isn't raining. Let's hope it rains all over the US Nov 6, 2012.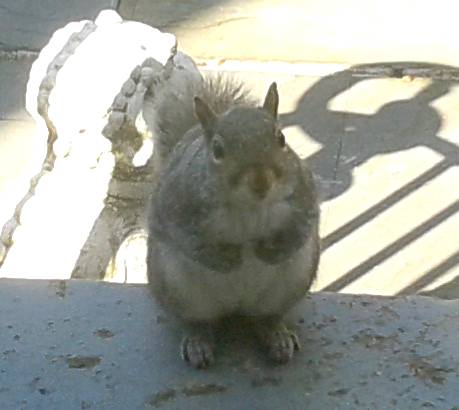 From the Washington Examiner:
http://campaign2012.washingtonexaminer.com/blogs/beltway-confidential/biden-hails-middle-class-wealthy-fundraiser/424931
Vice President Joe Biden addressed 87 wealthy Democrats last night attending a fundraiser at the home of Sen. John Kerry in Georgetown. As they dined on grass-fed New York strip steaks and white truffle mashed potatos underneath a outdoor tent, Biden criticized Republicans for being out of touch.

"These guys don't have a sense of the average folks out there," Biden said according to the pool report, "They don't know what it means to be middle class."

87 guests paid a minimum of $10,000-per-couple to attend the dinner.
Best national anthem I've heard in a long time. Pia Toscano did an awesome job with the national anthem to open today's NASCAR Las Vegas race!!!!!
Pia rocks!!!!!!!!!!!!!!!!!!
Do the math........................you...........yeah you couldn't get away with this and have a successful business last more than two months and not get shut down.
From Reuters:
The federal government recorded its worst monthly deficit in history in February, according to a preliminary report Wednesday from the Congressional Budget Office that said the deficit in fiscal year 2012 is already more than half a trillion dollars.
The CBO's figures show that despite repeated efforts to trim spending, the government has borrowed 42 cents of every dollar it spent during the first five months of this fiscal year.
The nonpartisan agency projected the government will run a deficit of $229 billion in February, the highest monthly figure ever. The previous high was $223 billion a year ago, in February 2011.
It is the 41st straight month the government has run a deficit — itself a record streak that dates back to the final months of President George W. Bush's tenure. Before now, the longest streak on record was 11 months.
For all of fiscal year 2012, which began Oct. 1, the budget analysts said the government has raised $869 billion in revenue but spent $1.5 trillion so far.
Congress and President Obama sparred for most of last year on how to cut spending, but the CBO's figures show that spending has actually remained flat in 2012 once the timing of certain payments has been adjusted.
Mr. Obama last month released a budget that showed the government averaging $1 trillion deficits for the rest of this decade. House Republicans are working to write their own budget now, while Senate Democratic leader Sen. Harry Reid of Nevada has said he doubts his chamber will write a budget this year.
Carbonite was a Rush sponser, I now recommend Sugar Sync.
Yeah, you moron pandering POSs to the disgusting f'ing leftist Alinsky sh1t tactics, p1$$ off. All my customers on Carbonite are now OFF Carbonite. Never to return. P1$$ off Carbonite.
Read this from the Daily Caller:
On Saturday, Carbonite CEO David Friend released a statement on his company's website declaring that Carbonite had decided to "withdraw" advertising from Rush Limbaugh's radio show in the wake of his controversial remarks involving Georgetown Law student Sandra Fluke because it will "ultimately contribute to a more civilized public discourse":
Even though Mr. Limbaugh has now issued an apology, we have nonetheless decided to withdraw our advertising from his show. We hope that our action, along with the other advertisers who have already withdrawn their ads, will ultimately contribute to a more civilized public discourse.
However, it hasn't done much to contribute to his company's stock price. Since the market opened on Monday through its close today, Carbonite stock (NASDAQ:CARB) has plummeted nearly 12 percent, outpacing the drop of the NASDAQ index in that same time period by nine-and-a-half poi
Read more: http://dailycaller.com/2012/03/06/investors-flee-carbonite-after-limbaugh-announcement/#ixzz1oOUifBEG
Sleep number beds are sh12tty $4000 air mattresses, AOL online tech support blows, screw these jerk PANDERERS .
The left are bunch of GDmd WGAF hypocrite bazterds, where in the fuque was the racist Bamster when David Letterman said Arod banged Palins daughter? Where the fuque was the media and HBO when Maher called Palin a Twwat and cuunt???????????????
First Andrew Breitbart age 43 now Steve Bridges 48???????? He also did a great GW impersonation.
IT ALWAYS SEEMS IMPORTANT TO THANK THESE PEOPLE FOR REMOVING THEMSELVES FROM THE GENE POOL
THE 2011 DARWIN AWARDS
You've been waiting for them with bated breath, so without further ado, here are the 2011 Darwin Awards:
Eighth Place
In Detroit, a 41-year-old man got stuck and drowned in two feet of water after squeezing head first through an 18-inch-wide sewer grate to retrieve his car keys.
Seventh Place
A 49-year-old San Francisco stockbroker, who "totally zoned when he ran", accidentally jogged off a 100-foot high cliff on his daily run.
Sixth Place
While at the beach, Daniel Jones, 21, dug an 8 foot hole for protection from the wind and had been sitting in a beach chair at the bottom, when it collapsed, burying him beneath 5 feet of sand. People on the beach used their hands and shovels trying to get him out but could not reach him. It took rescue workers using heavy equipment almost an hour to free him. Jones was pronounced dead at a hospital.
Fifth Place
Santiago Alvarado, 24, was killed as he fell through the ceiling of a bicycle shop he was burglarizing. Death was caused when the long flashlight he had placed in his mouth to keep his hands free rammed into the base of his skull as he hit the floor.
Fourth Place
Sylvester Briddell, Jr., 26, was killed as he won a bet with friends who said he would not put a revolver loaded with four bullets into his mouth and pull the trigger.
Third Place
After stepping around a marked police patrol car parked at the front door, a man walked into H&J Leather & Firearms intent on robbing the store. The shop was full of customers and a uniformed officer was standing at the counter. Upon seeing the officer, the would-be robber announced a hold-up and fired a few wild shots from a target pistol.
The officer and a clerk promptly returned fire, and several customers also drew their guns and fired. The robber was pronounced dead at the scene by Paramedics. Crime scene investigators located 47 expended cartridge cases in the shop. The subsequent autopsy revealed 23 gunshot wounds. Ballistics identified rounds from 7 different weapons. No one else was hurt.
HONORABLE MENTION
Paul Stiller, 47, and his wife Bonnie were bored just driving around at 2 A.M. so they lit a quarter stick of dynamite to toss out the window to see what would happen. Apparently they failed to notice that the window was closed.
RUNNER UP
Kerry Bingham had been drinking with several friends when one of them said they knew a person who had bungee-jumped from a local bridge in the middle of traffic. The conversation grew more excited, and at least 10 men trooped along the walkway of the bridge at 4:30 AM. Upon arrival at the midpoint of the bridge, they discovered that no one had brought a bungee rope. Bingham, who had continued drinking, volunteered and pointed out that a coil of lineman's cable lay nearby. They secured one end around Bingham's leg and then tied the other to the bridge. His fall lasted 40 feet before the cable tightened and tore his foot off at the ankle. He miraculously survived his fall into the icy water and was rescued by two nearby fishermen. Bingham's foot was never located.
AND THE WINNER IS....
Zookeeper Friedrich Riesfeldt ( Paderborn , Germany ) fed his constipated elephant 22 doses of animal laxative and more than a bushel of berries, figs and prunes before the plugged-up pachyderm finally got relief. Investigators say ill-fated Friedrich, 46, was attempting to give the ailing elephant an olive oil enema when the relieved beast unloaded.
The sheer force of the elephant's unexpected defecation knocked Mr Riesfeldt to the ground where he struck his head on a rock as the elephant continued to evacuate 200 pounds of dung on top of him. It seems to be just one of those freak accidents that proves... '$h1t happens'