Just the facts.
Almost, in the cracked code MM thread by the MTT I posted back to Lotto Vantage that I started back at the Pick 5 MD. last week using some of his Stat Path tracking, my "code", and of course gut instinct. Last night using that and a 4 if 5 key wheel bam very close to a real 5 of 5! It's been about a week since I started back, I let it rest for over a year because I got hooked on a couple of nice P4 hits, anyway what really is funny is that anyone believes there is some code or formula that gives you any guarantee is kooky. You can get regularly close but the rest is luck and the continuum. I've gotten 5 of 6 in DC's daily P6 but it took almost 5months and a lot of money. The pick 5's with the better odds are the way to go, the big money games' odds are of course much higher and reward greater but the bang for the buck is best on the "little" P5 games.
I think a lot of people on this forum know this and that is why when some "blathering blowhard" comes out of the woodwork and makes soaring claims of superiority they get hammered.
No mysteries here, here is a code you can use: look for trends, stats, gut feelings, track the numbers, play within your means, and of course a good wheel! Todd has all the tools to get winners on this site with a Platinum membership!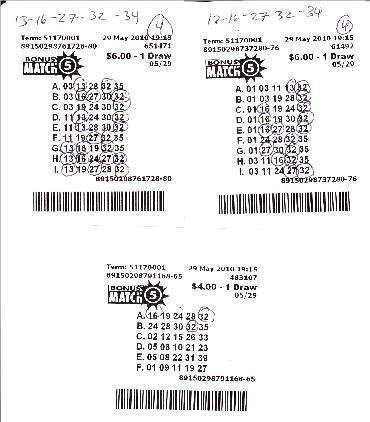 Total 1 4of 5 and 3 3 of 5's from a 4 if 5 key wheel using 12 numbers.
Here it is, his thing will erupt for weeks!
I am not at all detracting from the devastation and seriousness of the oil spill! But for God's sake CRYING CONGRESSMAN Butterfield from LA. what kind of leadership is that? Woe is us all is lost I am going to cry on camera, he should be angry and rallying the people to push for the feds to allow all efforts to go foward to try and stop the damage.
The water pressure at 5000ft down is around 2700 lbs. per square inch, probably higher due to water temp. density increase. They've been forced to go to these depths because of the bans. There was a Mexican oil rig accident in the 70's that lasted for 9 months at a much shallower depth.
Hopefully the top kill stopped or slowed the thing down today!
Global warming will be blamed!
Check it out, they just got to do it! There is so much hay and grasses this could do the trick! The scale matches up I'd rather have them try this in place of dispersants and it is ready to go.
Git r dun!
This is a no nosense get the JOB done for the people politician type we need all over America to be voted in Nov. 2010.
This will scare even Canadian geese!