Jarasans Blog
Just the facts.
Sunday, June 24, 2007
A papa mole, a mama mole, and a baby
One day papa mole sticks
his head
out of the hole, sniffs the air
"Yum! I smell maple syrup!"
The mama mole sticks her head
"Oh, Yum! I smell honey!"
out of the hole to sniff the air,
but can't
because the bigger moles
"Geez, all I can smell is....
MOLASSES!
Wednesday, June 20, 2007
This is for you bargain hunters.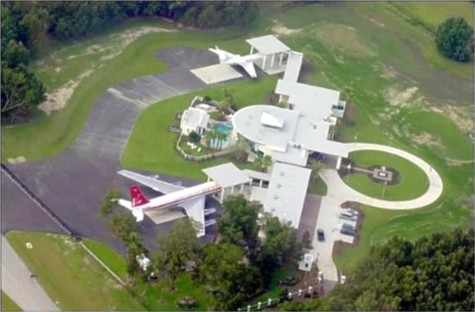 I think he has a good paying job, or is it the scientology?
Tuesday, June 19, 2007
this was released today:
http://www.usatoday.com/tech/science/discoveries/2007-06-19-newton-religious-papers_N.htm
here is part of it:
"It may end later, but I see no reason for its ending sooner," Newton wrote. However, he added, "This I mention not to assert when the time of the end shall be, but to put a stop to the rash conjectures of fanciful men who are frequently predicting the time of the end, and by doing so bring the sacred prophesies into discredit as often as their predictions fail."
In another document, Newton interpreted biblical prophecies to mean that the Jews would return to the Holy Land before the world ends. The end of days will see "the ruin of the wicked nations, the end of weeping and of all troubles, the return of the Jews captivity and their setting up a flourishing and everlasting Kingdom," he posited.
The exhibit also includes treatises on daily practice in the Jewish temple in Jerusalem. In one document, Newton discussed the exact dimensions of the temple — its plans mirrored the arrangement of the cosmos, he believed — and sketched it. Another paper contains words in Hebrew, including a sentence taken from the Jewish prayerbook.
Yemima Ben-Menahem, one of the exhibit's curators, said the papers show Newton's conviction that important knowledge was hiding in ancient texts.
"He believed there was wisdom in the world that got lost. He thought it was coded, and that by studying things like the dimensions of the temple, he could decode it," she said.
The Newton papers, Ben-Menahem said, also complicate the idea that science is diametrically opposed to religion. "These documents show a scientist guided by religious fervor, by a desire to see God's actions in the world," she said.
More prosaic documents on display show Newton keeping track of his income and expenses while a scholar at Cambridge and later, as master of the Royal Mint, negotiating with a group of miners from Devon and Cornwall about the price of the tin they supplied to Queen Anne.
The archives of Hebrew University in Jerusalem include a 1940 letter from Albert Einstein to Abraham Shalom Yahuda, the collector who purchased the papers a year earlier.
Newton's religious writings, Einstein wrote, provide "a variety of sketches and ongoing changes that give us a most interesting look into the mental laboratory of this unique thinker."
Monday, June 18, 2007
Here is a tour of my favorite place in D.C. to play lottery!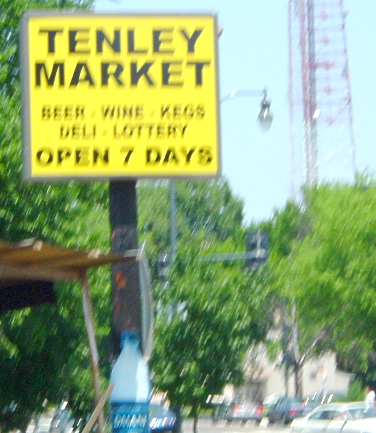 Tenley mini market has been in business for over 20 years, it is at Tenley Circle in D.C. at Wisconsin Ave. near the highest elevation in D.C. all the air broadcast towers are nearby. It is a great place to live, work, and play. Metro is a block away, American University is there, the National Cathedral, restaurants, stores, anything you may need. But if you want great sandwiches, beer/wine, newpapers, or lottery, Tenley Market is the place!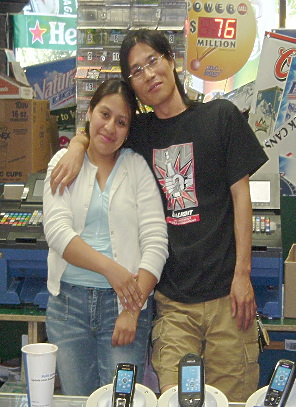 When you get there someone always greets you with a smile like Maria or Jason.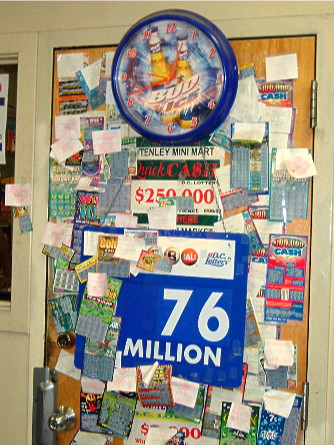 Winners board.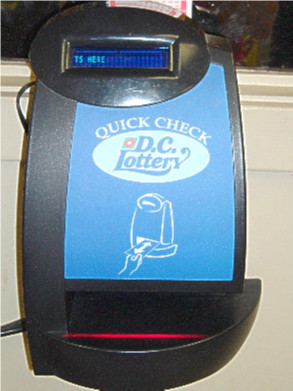 Ticket reader.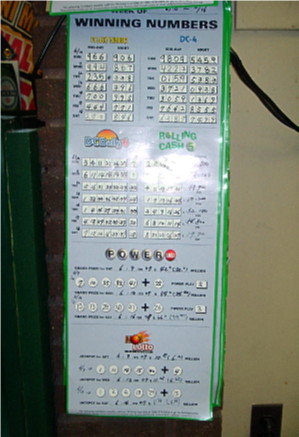 Last weeks winners.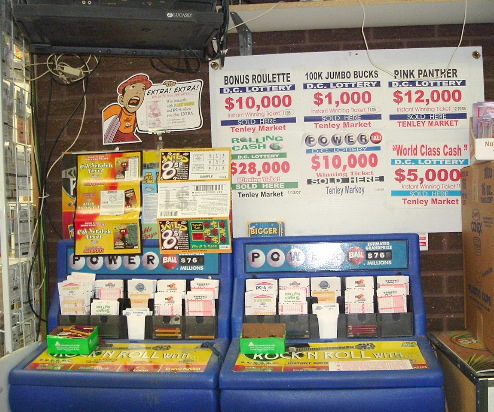 Two of five playing stations.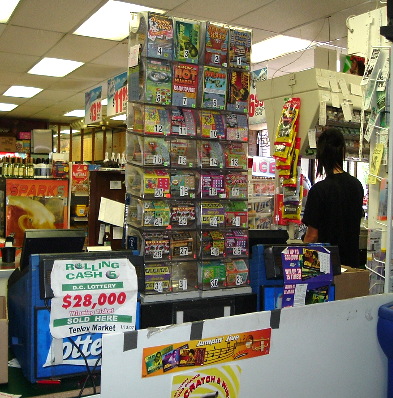 The scratchies to choose from.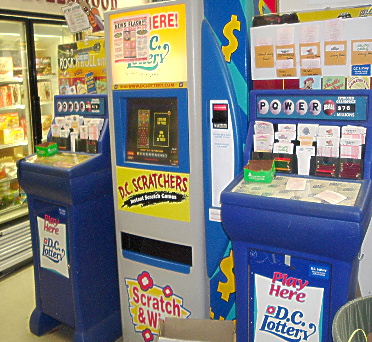 The scratcher vending machine.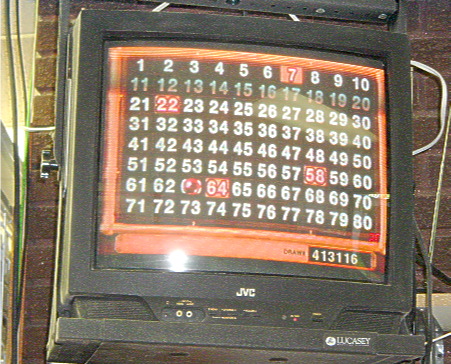 We play keno in D.C.! Got a ball in mid-flight to 63!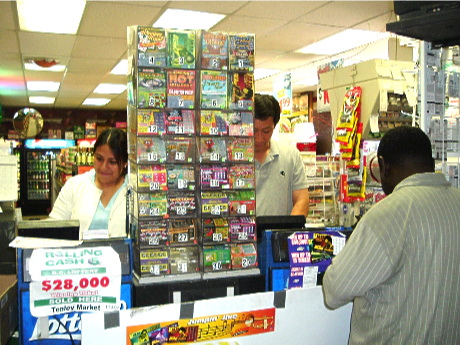 Maria and Bob doing business, notice all the winners at Tenley I think they've had everything hit here but a PBall jackpot, it could very well happen.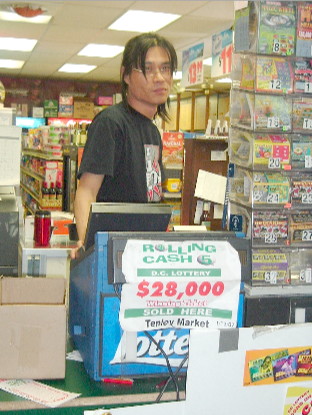 Jason is the ultimate in speed, accuracy and professionalism, no mistakes, enough said. He lets you know when the promos are on! He let me know last week a promo started for DC6 buy 3 get one free, guess what 5 of 6 on one of those free QP's. Thanks again Jason!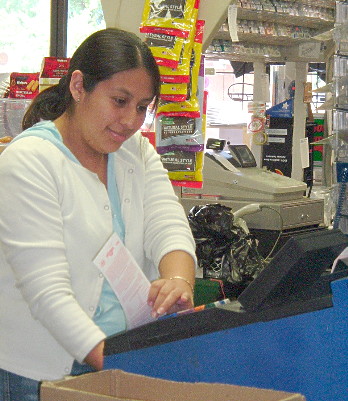 Maria is also fast, accurate, and professional, she always has a smile and a kind word.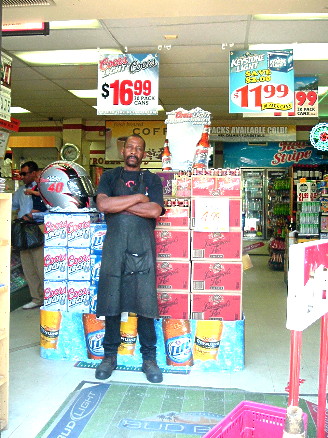 Now if you need a keg or two or three, a case, talk to Jimmy. The college kids love this man as well as everybody else. He is always there and keeps the whole place locked and loaded and ready to go. He is the beermeister.
I hope you all enjoy this. I think this is a great place to play at and is my favorite, the D.C. lottery should be very proud of the representation they get from the people of Tenley Market. Thank you.
Tuesday, June 12, 2007
Well, the climatis came back again this year with a vengence! My dad tied this vine up before he passed and I straightened it up this spring and they are beautiful! The simple beauty of this flower is electrifying to me, it almost looks like it is plugged into an electrical outlet, the purples are so vibrant. I hope you like these.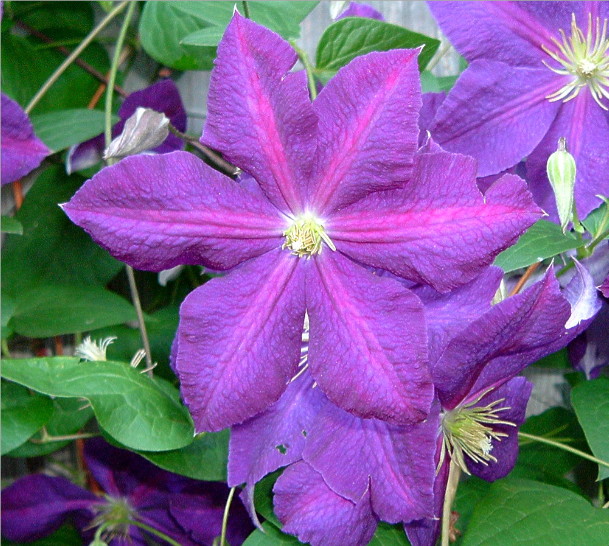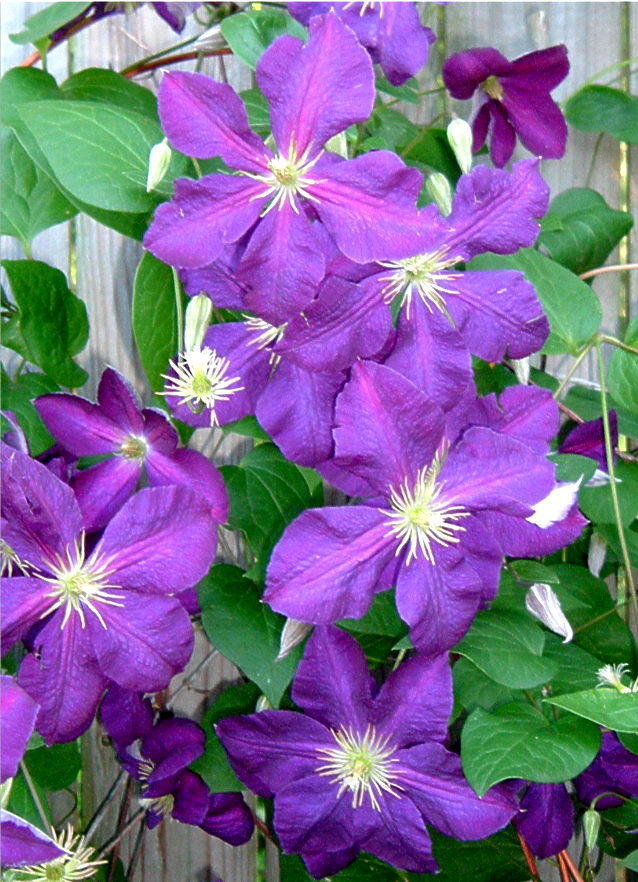 Friday, June 8, 2007
Looks like the Atlantis got up ok! 7000 mph in 5 min. It is beautiful to watch every time! It is going to hook up with the space station for 14 days. May they have a safe mission and return.
Wednesday, June 6, 2007
Is there any chance on earth that we could be this close again as a country? Could a US president say a prayer like this today and not be labeled as politically incorrect? FDR was a great man that led this nation through tough times and everybody knew what had to be done, we were truly the UNITED STATES of AMERICA. This is important history, the world was at a brink and everybody should thank a veteran anytime, anywhere, they make our freedom possible.
This is excerpted from historyplace.com:
This is the prayer originally entitled "Let Our Hearts Be Stout" written by President Franklin D. Roosevelt as Allied troops were invading German-occupied Europe during World War II. The prayer was read to the nation on radio on the evening of D-Day, June 6, 1944, while American, British and Canadian troops were fighting to establish beach heads on the coast of Normandy in France.
The previous night, June 5, the President had also been on the radio to announce that Allied troops had entered Rome. The spectacular news that Rome had been liberated was quickly surpassed by news of the gigantic D-Day invasion which began at 6:30 a.m. on June 6. By midnight about 57,000 American and 75,000 British and Canadian soldiers had gotten ashore. Allied losses on D-Day included 2,500 killed and 8,500 wounded.
My Fellow Americans:
Last night, when I spoke with you about the fall of Rome, I knew at that moment that troops of the United States and our Allies were crossing the Channel in another and greater operation. It has come to pass with success thus far.
And so, in this poignant hour, I ask you to join with me in prayer:
Almighty God: Our sons, pride of our nation, this day have set upon a mighty endeavor, a struggle to preserve our Republic, our religion, and our civilization, and to set free a suffering humanity.
Lead them straight and true; give strength to their arms, stoutness to their hearts, steadfastness in their faith.
They will need Thy blessings. Their road will be long and hard. For the enemy is strong. He may hurl back our forces. Success may not come with rushing speed, but we shall return again and again; and we know that by Thy grace, and by the righteousness of our cause, our sons will triumph.
They will be sore tried, by night and by day, without rest -- until the victory is won. The darkness will be rent by noise and flame. Men's souls will be shaken with the violences of war.
For these men are lately drawn from the ways of peace. They fight not for the lust of conquest. They fight to end conquest. They fight to liberate. They fight to let justice arise, and tolerance and goodwill among all Thy people. They yearn but for the end of battle, for their return to the haven of home.
Some will never return. Embrace these, Father, and receive them, Thy heroic servants, into Thy kingdom.
And for us at home -- fathers, mothers, children, wives, sisters, and brothers of brave men overseas, whose thoughts and prayers are ever with them -- help us, Almighty God, to rededicate ourselves in renewed faith in Thee in this hour of great sacrifice.
Many people have urged that I call the nation into a single day of special prayer. But because the road is long and the desire is great, I ask that our people devote themselves in a continuance of prayer. As we rise to each new day, and again when each day is spent, let words of prayer be on our lips, invoking Thy help to our efforts.
Give us strength, too -- strength in our daily tasks, to redouble the contributions we make in the physical and the material support of our armed forces.
And let our hearts be stout, to wait out the long travail, to bear sorrows that may come, to impart our courage unto our sons wheresoever they may be.
And, O Lord, give us faith. Give us faith in Thee; faith in our sons; faith in each other; faith in our united crusade. Let not the keeness of our spirit ever be dulled. Let not the impacts of temporary events, of temporal matters of but fleeting moment -- let not these deter us in our unconquerable purpose.
With Thy blessing, we shall prevail over the unholy forces of our enemy. Help us to conquer the apostles of greed and racial arrogances. Lead us to the saving of our country, and with our sister nations into a world unity that will spell a sure peace -- a peace invulnerable to the schemings of unworthy men. And a peace that will let all of men live in freedom, reaping the just rewards of their honest toil.
Thy will be done, Almighty God.
Amen.
Franklin D. Roosevelt - June 6, 1944
Monday, June 4, 2007
Enjoy. Some old, some new.
TWENTY NINE LINES TO MAKE YOU SMILE
1.. My husband (wife) and I divorced over religious differences. He (she) thought he (she) was God and I didn't.

2.. I don't suffer from insanity; I enjoy every minute of it.

3.. Some people are alive only because it's illegal to kill them.

4.. I used to have a handle on life, but it broke.

5.. Don't take life too seriously; No one gets out alive.
6.. You're just jealous because the voices only talk to me
7.. Beauty is in the eye of the beer holder.
8.. Earth is the insane asylum for the universe.

9.. I'm not a complete idiot -- Some parts are just missing.

10.. Out of my mind. Back in five minutes
11. Nyquil, the stuffy, sneeze, why-the-heck-is-the-room-spinning medicine.

12.. God must love stupid people; He made so many.

13.. The gene pool could use a little chlorine.

14.. Consciousness: That annoying time between naps.

15.. Ever stop to think, and forget to start again?

16.. Being "over the hill" is much better than being under it!

17.. Wrinkled Was Not One of the Things I Wanted to Be When I Grew up.

18.. Procrastinate Now!

19.. I Have a Degree in Liberal Arts; Do You Want Fries With That?

20.. A hangover is the wrath of grapes.

21.. A journey of a thousand miles begins with a cash advance

22.. Stupidity is not a handicap. Park elsewhere!
23.. They call it PMS because Mad Cow Disease was already taken.

24.. He who dies with the most toys is nonetheless DEAD.

25.. A picture is worth a thousand words, but it uses up three thousand times the memory.

26.. Ham and eggs? A day's work for a chicken, a lifetime commitment for a pig.

27.. The trouble with life is there's no background music.
28.. The original point and click interface was a Smith & Wesson.

29.. I smile because I don't know what the hell is going on.
Appreciate every single thing you have, especially your friends!
Life is too short and friends are too few ...But not on LP!

Saturday, June 2, 2007
WARNING! Garden Grass Snakes Can Be Dangerous !!!!
Garden Grass Snakes also known as Garter Snakes (Thamnophissirtalis) can be dangerous. Yes, grass snakes, not rattlesnakes.

Here's why.

A couple in Sweetwater , Texas , had a lot of potted plants. During a recent cold spell, the wife was bringing a lot of them indoors to protect them from a possible freeze.

It turned out that a little green garden grass snake was hidden in one of the plants and when it had warmed up, it slithered out and the wife saw it go under the sofa.

She let out a very loud scream.

The husband (who was taking a shower) ran out into the living room naked to see what the problem was. She told him there was a snake under the sofa.

He got down on the floor on his hands and knees to look for it. About that time the family dog came and cold-nosed him on the behind. He thought the snake had bitten him, so he screamed and fell over on the floor.

His wife thought he had a heart attack, so she covered him up, told him to lie still and called an ambulance.

The attendants rushed in, wouldn't listen to his protests and loaded him on the stretcher and started carrying him out.

About that time the snake came out from under the sofa and the
Emergency Medical Technician saw it and dropped his end of the stretcher.

That's when the man broke his leg and why he is still in the hospital.

The wife still had the problem of the snake in the house, so she
called on a neighbor man.

He volunteered to capture the snake.
He armed himself with a rolled-up newspaper and began poking under the couch. Soon he decided it was gone and told the woman, who sat down on the sofa in relief.

But while relaxing, her hand dangled in between the cushions, where she felt the snake wriggling around.
She screamed and fainted, the snake rushed back under the sofa.

The neighbor man, seeing her lying there passed out, tried to use CPR to revive her.

The neighbor's wife, who had just returned from shopping at the
grocery store, saw her husband's mouth on the woman's mouth and slammed her husband in the back of the head with a bag of canned goods, knocking him out and cutting his scalp to a point where it needed stitches.

The noise woke the woman from her dead faint and she saw her neighbor lying on the floor with his wife bending over him, so she assumed that he had been bitten by the snake. She went to the kitchen and got a small bottle of whiskey, and began pouring it down the man's throat.

By now the police had arrived.

They saw the unconscious man, smelled the whiskey, and assumed that a drunken fight had occurred. They were about to arrest them all, when the women tried to explain how it all happened over a little green snake.

The police called an ambulance, which took away the neighbor and his sobbing wife. The little snake again crawled out from under the sofa.

One of the policemen drew his gun and fired at it.
He missed the snake and hit the leg of the end table. The table fell over and the lamp on it shattered and as the bulb broke it started a fire in the drapes.

The other policeman tried to beat out the flames, and fell through the window into the yard on top of the family dog who, startled, jumped out and raced into the street, where an oncoming car swerved to avoid it and smashed into the parked police car.

Meanwhile, the burning drapes, were seen by the neighbors who called the fire department.

The firemen had started raising the fire truck ladder when they were halfway down the street.

The rising ladder tore out the overhead wires and put out the
el ectricity and disconnected the telephones in a ten-square city block area (but they did get the house fire out).

Time passed! Both men were discharged from the hospital, the house was repaired, the dog came home, the police acquired a new car, and all was right with their world.

A while later they were watching TV and the weatherman announced a cold snap for that night. The wife asked her husband if he thought they should bring in their plants for the night.

That's when he shot her.
Archives
May 2022 April 2022 March 2022 February 2022 January 2022 December 2021 November 2021 October 2021 September 2021 August 2021 July 2021 June 2021 May 2021 April 2021 March 2021 February 2021 January 2021 December 2020 November 2020 October 2020 September 2020 August 2020 July 2020 June 2020 May 2020 April 2020 March 2020 February 2020 January 2020 December 2019 November 2019 October 2019 September 2019 August 2019 July 2019 June 2019 May 2019 April 2019 March 2019 February 2019 January 2019 December 2018 November 2018 October 2018 September 2018 August 2018 July 2018 June 2018 May 2018 April 2018 March 2018 February 2018 January 2018 December 2017 November 2017 October 2017 September 2017 August 2017 July 2017 June 2017 May 2017 April 2017 March 2017 February 2017 January 2017 December 2016 November 2016 October 2016 September 2016 August 2016 July 2016 June 2016 May 2016 April 2016 March 2016 February 2016 January 2016 December 2015 November 2015 October 2015 September 2015 August 2015 July 2015 June 2015 May 2015 April 2015 March 2015 February 2015 January 2015 December 2014 November 2014 October 2014 September 2014 August 2014 July 2014 June 2014 May 2014 April 2014 March 2014 February 2014 January 2014 December 2013 November 2013 October 2013 September 2013 August 2013 July 2013 June 2013 May 2013 April 2013 March 2013 February 2013 January 2013 December 2012 November 2012 October 2012 September 2012 August 2012 July 2012 June 2012 May 2012 April 2012 March 2012 February 2012 January 2012 December 2011 November 2011 October 2011 September 2011 August 2011 July 2011 June 2011 May 2011 April 2011 March 2011 February 2011 January 2011 November 2010 October 2010 September 2010 August 2010 July 2010 June 2010 May 2010 April 2010 March 2010 February 2010 January 2010 December 2009 November 2009 October 2009 September 2009 August 2009 July 2009 June 2009 May 2009 April 2009 March 2009 February 2009 January 2009 December 2008 November 2008 October 2008 September 2008 August 2008 July 2008 June 2008 April 2008 March 2008 February 2008 January 2008 December 2007 November 2007 September 2007 August 2007 July 2007 June 2007 May 2007 April 2007