There is a CD you buy that will take you to another place — a place of wonderful, harmonious music.
Philip Glass is one of the great classical piano composers and performers, and his Solo Piano album continues to be one of the single-greatest works of his.
It is perfect for when you want to listen to music — not just background music while you use the computer, read a book, or do some work — I'm talking about those times when you want to sit with your eyes closed and allow the music to take you wherever it goes.
Solo Piano is a succession of music that builds around a theme, and like most Philip Glass music it builds on the concept of repetition. It is a meditative miracle.
If you have never listened to classical piano, there could be no better introduction.
You won't want it to end, and it leaves you in a contemplative mood.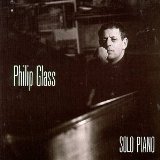 (Click for more info)