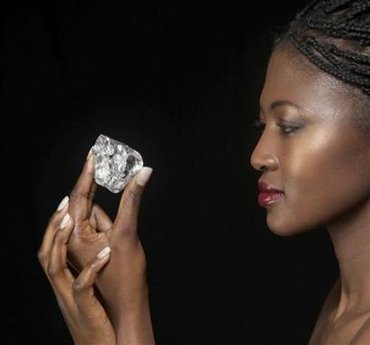 Lesotho mine yields one of world's largest diamonds
Miners in the southern African kingdom of Lesotho have found one of the world's largest diamonds, a near-flawless white gem weighing nearly 500 carats, mining group Gem Diamonds said on Sunday.
The diamond was discovered in the Letseng Mine on September 8, the company said in a statement. It has been analyzed by experts in Antwerp and found to weigh 478 carats, with very few inclusions and of outstanding color and clarity.
"It has the potential to yield one of the largest flawless D color round polished diamonds in history," the company said.
Letseng is one of the most productive mines in history -- four of the world's 20 largest rough diamonds have been found at the mine, including the three largest found this century.
Before it is cut into gems it is hard to value the diamond, but a spokesman for Gem Diamonds said a similar weight stone with lesser-quality color and clarity had recently sold for $12 million (around 5.5 million pounds).
"Preliminary examination of this remarkable diamond indicates that it will yield a record breaking polished stone of the very best color and clarity," Clifford Elphick, the chief executive of Gem Diamonds, said in a statement.
The minister for natural resources in Lesotho, an impoverished mountain kingdom in eastern South Africa, praised the productivity of the mine, one of the highest in the world at more than 3,000 meters (10,000 feet).
"Once again Letseng has proved its ability to produce extraordinary diamonds and continues to place Lesotho at the forefront of diamond producing countries," Monyane Moleleki said in a statement.
Letseng is 70 percent owned by Gem Diamonds and 30 percent owned by the government of Lesotho.
The world's largest diamond is the Cullinan, discovered in South Africa in 1905. It weighed more than 3,100 carats before it was cut into more than one hundred separate gems, many of which are part of the British crown jewels.