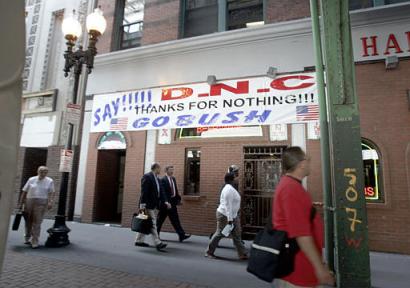 Courtesy of Drudge Report
The 24-foot-long sign at Halftime Pizza across the street from Boston's FleetCenter isn't exactly welcoming to the Democratic National Convention: "Say!!!!! D.N.C. Thanks for Nothing!!! Go Bush."
Security measures and the availability of free food for delegates led Mark Pasquale, owner of Halftime, to shut his restaurant down for the week of the convention and erect the sign.
On Friday, WRKO-AM's Peter Blute and Scott Allen Miller reported how Pasquale has been confronted by city inspectors who have threatened to fine him unless he takes the anti-Dem sign down!
Pasquale told Blute and Scotto that while he doesn't want any trouble, he will continue to exercise his First Amendment rights by keeping the sign up in spite of any fines.